Unknowing coworker predicts Hotdish Hoedown 2002
Hoedown song sheets

Jell-O contest categories for 2003
You can recycle trophies from years' past by leaving them on the hostess' front porch.
Know someone who would like the Hoedown? Nominate them for the guest list.
Updated Dec. 14, 2003
Posted Jan. 9, 2003
"Who made that Tator Tot Hotdish with the precisely aligned tator tots?" Folks are clamoring for the recipe, so will the chef please send it to the hostess?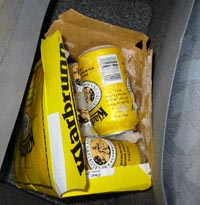 The hostess is happy to report that on post-Hoedown Monday, she found her packet of checks temporarily lost in the rubble in her car. She also found a case of exploded, frozen fizzy water under her driver's seat.


---
Hoedown 2003 announcement
Hotdish
Hoedown
2003

Special Spam bulletin
Canned meats on sale


This cookbook could be yours if you bring the most Spam by weight or the most (unopened) containers of Spam to donate to the food pantry.
Hotdish "really came into its own after World War II … The busy hostess loved the casserole because, at last, she could go to her own party. … [T]he casserole could be made in the time it took to open a can and turn on the oven and sip a martini."
Karal Ann Marling
"O, Casserole,"
Minnesota Hotdish, 1995