2004 Jell-O
If you tire of the clutter, recycle trophies from years past by leaving them on the hostess' front porch.
Updated Jan. 22, 2006
Posted Feb. 8, 2004
Hotdish Hoedown 2004
Hoedown — Hoedown
An accordian, more room between the tables, and 25 fewer adults and 11 fewer children (127 vs. 163 guests in 2003) meant a more relaxed atmosphere at the 2004 Hotdish Hoedown, which had glorious Jell-Os.
Countless cans of Spam and other food items were collected for the food pantry. A virtual prize goes to Sandy and Mike for donating 30 cans of Spam.
Thanks to Mary Jo for braving the crowd and providing accompaniment to the singing on her accordian
Kudos to the Ladies Aid for helping the hostess with crafting the trophies.
And thanks to everyone for making it yet another memorable year.
Stay tuned for the 15th Hotdish Hoedown on Saturday, Jan. 29, 2005.
---
"I have discovered that even holding a Ph.D. cannot protect a heartlander from having an uncontrollable urge to serve guests ground hamburger and white rice that is gaily covered with Tater Tots[,] and then drenched in canned, creamed soup and baked until every possible drop of moisture is sucked out."
— Pat Dennis, introduction, "Hotdish to Die For," 2003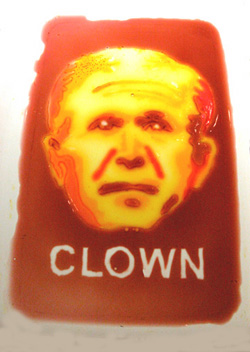 "The illiteracy level of our children are appalling."

-- President George Bush,
Jan. 23, 2004